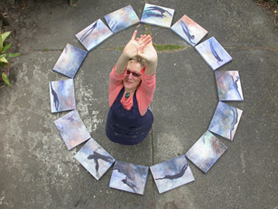 Mary Ferguson
Mary began her association with ocean and coast being raised in a cliff house in New Zealand. This house provided lofty places to play, seagull nests and roaring surf below, while in the distance a lighthouse bleated its mournful foghorn to tell ghost stories by. Dreams were made in this place where water meets rock.
When she was eight Mary dived into a snow-fed mountain river in the Southern Alps of New Zealand on a clear sunny day. She watched the shards of sunlight and the movement of their refracting rays striking the dark boulders below the surface of the pristine water. That first underwater experience of light, silence and timelessness has been an endless resource and focus of exploration in her work.
Mary pursues her highly personal and intimate style through rigorous studio investigations and has an established professional practice on Waiheke Island, Auckland.
Studio visits are welcome by appointment.
Work on display at Space Gallery, Shop 4, 114 Ocean View Road, Oneroa, Waiheke Island, Auckland 1081 NZ
www.spaceartgallery.co.nz
Copyright 2018 – Mary Ferguson, All Rights Reserved